Vuurtoring,svjetionik,fyr, vuurtoren,lumturo,tuletorn,majakka,phare,
Leuchtturm,világítótorony,faro,fyr,Latarnia,farol,faro,fyr


For a few years I collect the topical:
lighthouses on stamps.

To expand my collection I'm looking for other collectors
who want to exchange stamps. If you have something,
please let me know, maybe we can exchange some stamps.
As a guide I use the:
Seamark "Illustrated Catalogue of Lighthouse Stamps", compiled by Keith Hall.
A mist-shrouded lighthouse can shine a ray of beauty and calm on our imagination.
Even as waves batter their sides, lighthouses stand proud and erect,
guiding the way for all storm-tossed mariners.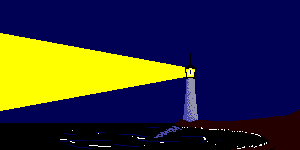 Picture gallery of Dutch lighthouses


Is the Statue of Liberty in New York a lighthouse ?
Click here for the answer.
Click here for interesting links.

The world oldest Lighthouses

Colossus of Rhodes

The Colossus of Rhodes, was build around 280 B.C. It was about 30 meters high and was build to protect the harbor of Rhodes.
The Greek and Romans considered it as one of the seven world wonders.

Pharos of Alexandria

The pharos of Alexandria was on a island in the harbor of Alexandria and was more then 134 meters high.

What are Lighthouses:
A lighthouse is a structure, usually with a tower, built onshore or on the seabed to serve as an aid to maritime coastal navigation. From the sea a lighthouse may be identified by the distinctive shape or color of its structure, by the color or flash pattern of its light, or by the coded pattern of its radio signal.

History:

The first known lighthouse was the Pharos of Alexandria (see above), which stood some 350 feet (110 m) high. During the first few centuries AD the Phoenicians and Romans also built lighthouses at numerous sites, ranging from the Black Sea, along the Mediterranean and Atlantic coasts, to Britain.
After the fall of the Roman Empire in the 5th century, there was little maritime trade or travel, and no lighthouses were built in Europe until the revival of commerce in the 12th century.
The French and Italians built the earliest of these lighthouses, followed by the Hanseatic League, which constructed a number of such structures along the Scandinavian and German coasts.
The modern lighthouse dates from the early 18th century. Initially these towers were made of wood, but wooden towers were often washed away in severe storms.
The first lighthouse made of interlocking masonry blocks was built on the treacherous Eddystone Rocks reef in England in 1759. This structure, designed by the engineer John Smeaton, was also the first to employ the classic curved hyperbolic design. Following the success of Smeaton's innovations, a large number of lighthouses were built on the open sea.

Materials:

Interlocking masonry blocks remained the principal material of lighthouse construction until they were replaced by concrete and steel in the 20th century. There are now three major kinds of offshore lighthouse structures.
The first rests on a hollow, steel cylinder (caisson) that is partly sunk into the seabed and then filled with concrete.
The second utilizes a concrete base that sinks to the bottom of the water, thus anchoring the lighthouse tower that rises from this base.
The third, resembling an offshore oil rig, consists of a large deck supported by tubular steel piles driven into the seabed; the tower rises from the deck.
Most lighthouses also have landing pads for helicopters.


Lights:

The standard illuminant of modern lighthouses (as well as lightships and buoys) is the electric lamp.
The most common type is the electric-filament lamp, which requires as much as 1.5 kilowatts to as little as 5 watts in small buoys. Refinements in lenses and reflectors have made it possible for a 250-watt bulb to be boosted to several hundred thousand candlepower, or candelas.
The maximum intensity now sought in lighthouse beams is in the range of 100,000 candelas; this gives a beam that can be seen from 20 nautical miles (37 km) in clear weather.

Sirens:

Sirens and horns are commonly used to provide audible warnings when a lighthouse and its beacon are obscured by bad weather.
But because the range of their sound is also highly dependent on weather conditions, many lighthouses are also fitted with radio and radar beacons, which either amplify a ship's radar or emit signals of their own that can be detected by navigators.

The end of the lighthouse?

Radio and satellite-based navigation systems have greatly reduced the need for large lighthouses in sighting land, although smaller structures are still important aids to navigating crowded coastal waters and shipping lanes.
Almost all lighthouses are now completely automated, eliminating the expense of maintenance by resident crews.
Modern computerized lighthouses analyze the weather, activate foghorns and other equipment, and transmit signals to remote control stations ashore.

For a lot of
animated ighthouse gif's
goto
here

New Links
.

Stamp related Links

N/A


Lighthouse Organizations & Resources

The Dutch Lighthouse Association

Other links


Lighthouses Online photos, drawings, info, and links.
Lighthouse Publishing Inc. Home Page With prints and other lighthouse related products and services
Outer Banks lighthouses
Shore Village Museum provides basic information about "America's Lighthouse Museum"
Selkirk Lighthouse Historic and related information on one of the few lighthouses accommodating guests, with links to all other known lighthouse resources on the Web.
USA Lighthouses pictures & history as well as links to some of my favorite lighthouse sites.



---

.
YES,
the Statue of Liberty officially served as a lighthouse from 1886 to 1902.
FREE:
If you would like to add your url for
your homepage then click here
Powered by WebRing®.
Summary site-index

Copyright © 1988 - 2013 by:
Jan Langenberg
Nederland
All rights reserved. The material on this site may not be reproduced, distributed, transmitted or otherwise used, except with the prior written permission of owner.


Last modified